Solitaire
Large selection of diamond solitaire engagement rings in Dallas, TX. Buy unique solitaire engagement rings online at wholesale prices in our store.

Solitaire2030
Solitaire2030

Solitaire Engagement Rings in Dallas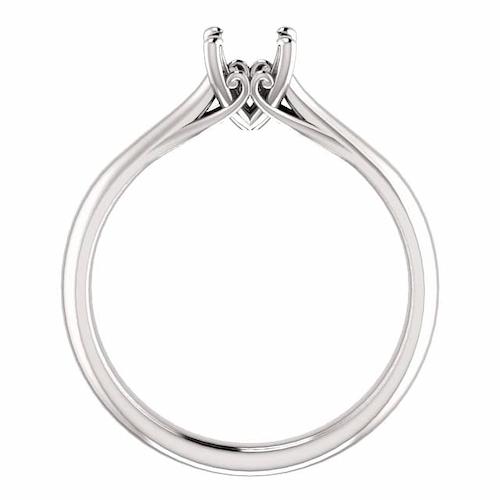 Schedule a One-on-One appointment with one of our Diamond Specialists
Solitaire rings are an ideal choice for engagement due to the simplicity of design and a large selection, as well as the price of an engagement ring. Engagement rings with one diamond or with several diamonds, among which the largest stands out, is a classic version of the engagement ring. Solitaire rings are characterized by the diamond used in this type of jewelry. The tradition of giving such rings came to us many years ago, where the solitaire ring is the standard engagement ring that is presented to the girl in a romantic setting.
Naturally, a solitaire engagement ring with a diamond is not only a chic jewelry that catches the eyes of admiring people. This engagement ring symbolizes the unbreakable bond of the young, and also emphasizes a certain status and sense of style. A huge variety of models and options an solitaire rings in Engagement Rings Store Dallas it possible to prepare for an engagement without much effort. You can choose the best option that you like and in the selection process, you need to consider what a solitaire diamond engagement ring is acquired for life. Therefore, you can not give in to emotions and buy the first jewelry you like. This question needs to be carefully considered.
Solitaire Engagement Rings in Dallas TX:
The solitaire engagement rings Dallas is sometimes generically called the tiffany solitaire. It`s named for the company that designed a six prong setting that was raised up from the band in 1886. First off all this ring designed to maximize the diamond's brilliance. Today, the solitaire comes in a subtle variety of styles, but the basics are all the same. Regardless of the diamond's shape, a solitaire engagement rings will have no stones, but the center stone and will usually be set with prongs where it is raised off the top of a precious metal band. The two most popular styles today are the classic tiffany setting and the cathedral.
A simple but elegant solitaire engagement ring is characterized by one stone, usually a diamond, but there may be another gem that is placed on a relatively simple strip, without jewelry. The classic choice is a round diamond, although bizarre cut shapes can create a spectacular alternative. There is a wide selection of beautiful cuts to solitaire ring: emerald, asscher, marquise, pear, cushion and heart diamonds. For example cushion cuts add vintage style glamor, and the clear lines of emerald cut create a stunning, luxurious look.
The engagement ring solitaire is a popular variety of elegant in its simplicity engagement jewelry. Performed in a single design around the circumference, they are a symbol of eternal and sincere love. The name for the ring was not given by chance, because it is always a single stone and, as a rule, it is a diamond. A small ring made of precious metals is an ideal choice for those who are looking for a gift for their loved ones. Each woman will be pleased to wear such a ring, reminding every day of the moment when it was presented.
Solitaire Engagement Rings Settings:
The cathedral setting has two arm-like spires that reach out to the diamond. The diamond is still set in the appropriate head. Cathedral solitaires usually vary depending on the shape of the diamond in the center. If the center stone has flat sides like the princess cut diamond the sides of the cathedral are flatter and less round. Most cathedrals solitaire settings are rounded and as the metal flows towards the diamond. It may taper to a softer rounded point, drawing the eye to the center stone. Another design surrounds the shape of the diamond in a frame of gold called a bezel setting.
The shape of the bezel is the exact shape and dimension of the center stone, it`s necessary need for holding the stone firmly in the ring. One design where the ring itself holds and suspends the diamond without the need of a head the ring is called a tension set solitaire. The tension set solitaire is thicker than most solitaire designs and will hold the diamond one of two ways. The first style of tension set solitaire has the diamond held from the left and right side of the diamond. It is necessary for applying equal pressure on the sides of the diamond. The second version holds the diamond from the top and bottom of the diamond and is usually connected under the diamond to ensure the security of the diamond.
This style is called a bypass, named for one side of the ring raise up to hold the top of the diamond while the opposite holds the bottom bypassing the center stone. It comes down to the solitaire, it simply a ring with no other stone but the center regardless of metal type. Most will envision the classic tiffany solitaire, thin and simple but there are choices. Aura Diamonds has a wide selection of unique solitaire engagement rings in Dallas to fit your personal style.
How to Find Your Perfect Solitaire Engagement Ring?
How to choose a solitaire engagement ring? Everyone at least once in this life asked this question. After all, the solitaire ring is a universal jewelry, it is given to loved ones or as a gift. Solitaire rings are good for engagement or for a gift to a loved one, everything will be from your preferences and taste. Choosing a solitaire engagement ring is not always easy. Many questions and doubts arise, since such a purchase is not made for one day. In this matter, we can help you with the choice of both an engagement ring and a diamond for it, based on our experience and the tastes of our customers.
Solitaire ring are perhaps the most popular jewelry in our jewelry catalog. As a rule, a solitaire ring often becomes the first ring in a girl's jewelry collection. Also, solitaire rings presents as a sign of engagement to a marriage proposal and a future wedding.
To make the right choice in this variety rings and find the same ring, first decide on the choice. First, choose a metal for engagement ring, because for the manufacture of such jewelry use silver, red, white, yellow, black gold and platinum. Focus on your preferences. Secondly, select a diamond in your engagement ring. Our range of diamonds is very large and you will not encounter the problem of choosing a diamond for carats, weight or quality. Next, select a diamond shape, as a rule, in most cases, our engagement ring buyers stop at a round diamond.
Where to buy Solitaire Engagement Rings?
Buying a solitaire ring in Dallas has become much easier, because you should not visit a dozen of Jewelry Stores in search of the perfect solitaire engagement ring. So, just look at our wide selection catalog an solitaire rings. Here you can choose a solitaire engagement ring for various signs and characteristics, ranging from ring color, metal, weight and carats.
You can see in our store that our solitaire rings are sold in modern, cathedral, split shank, antique, and infinity style and also, our rings have at 10, 14, 18 carats weight . We should also pay your attention to our platinum solitaire rings. These rings are distinguished by extra strength, as well as a relatively higher price. Platinum solitaire engagement rings with a diamond as the main stone can melt the heart of any girl both for the engagement and as a wedding gift.
At our engagement ring store, you will not be indifferent to the choice of a solitaire ring, price, selection of a stone or diamond for an engagement ring in Dallas, Texas.

Where can you buy a Solitaire Engagement Rings in Dallas?
At Aura Diamonds, our goal is to provide our clients with personalized service when they come to our engagement ring store. We encourage you to get in touch with us today to book your appointment so we can help you find your perfect engagement ring.
4201 Spring Valley Rd.
Ste 520 Dallas, TX 75244
(214) 389-2323
Price Range: $$
Open: 10AM–6PM
Latitude: 32.802626
Longitude: -96.825274
R53F+2V Dallas, Texas, USA
Store Hours
Monday
10:00 AM – 6:00 PM
Tuesday
10:00 AM – 6:00 PM
Wednesday
10:00 AM – 6:00 PM
Thursday
10:00 AM – 6:00 PM
Friday
10:00 AM – 6:00 PM
Saturday
9:00 AM – 6:00 PM
Sunday
10:00 AM – 4:00 PM
Available by appointment outside of regular hours
Testimonials
Our mission is to bring our customers
the highest level satifactions but don't take our word for it