Heart
Heart cut diamonds has been a symbol of love for centuries and the heart diamonds is no different. Buy heart diamonds in Dallas and Fort Worth, TX at wholesale price online.

Heart2030
Heart2030
Heart Diamonds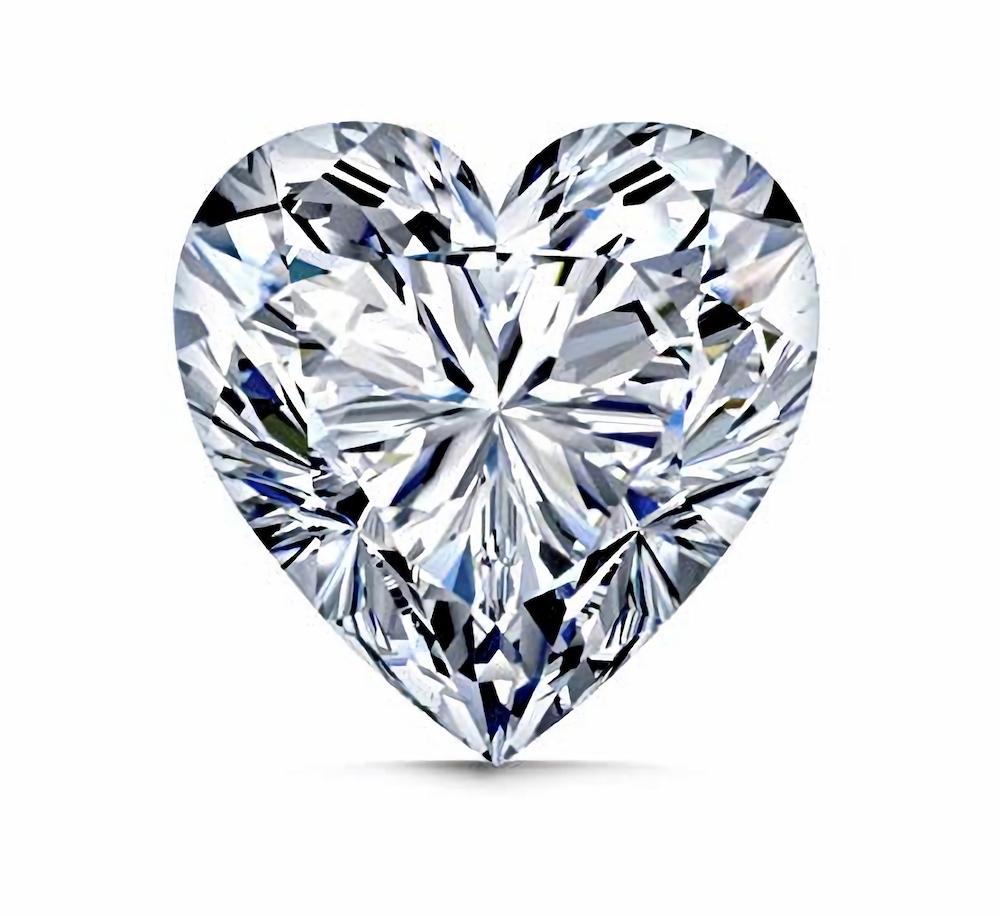 Tradition and brilliance are combined in heart shaped diamonds, creating a stone which capture once heart and eye.
The heart cut diamond by its principle resembles the shape of a pear cut, but in this case the gemstone has a notch at the rounded end, which forms the heart segments. Due to the technological complexity of producing a diamond of this form, its competent execution requires the highest level of qualification of the cutter and considerable labor costs, because only in the case of perfect cut, the heart diamond will have an attractive, eye-pleasing shape in combination with an amazing game and brilliance.
Heart diamond is the most romantic form of cut, symbolizing love and purity. However, not only the need for romance became the reason for its creation. Technically the heart cut diamond is sophisticated best demonstrates the brilliance of a diamond and reveals the true beauty of natural diamond. When buying a heart diamond, it is important to pay attention to the sharpness and evenness of the contouring line, since the beauty of such a diamond directly depends on the ideality of its execution.
In itself, the heart diamond is a symbol of human feelings, deep and endless love, therefore a heart shaped diamond is very symbolic. Diamonds cut in this form are often encrusted in pendants and earrings, which are the perfect gift for significant family anniversaries or important romantic dates. It is worth noting that brilliant heart diamond is also used in engagement rings, symbolizing eternal love.
Heart Cut Diamonds Dallas TX
Heart cut diamonds has been a symbol of love for centuries and the heart cut diamonds is no different. It is believed to be created by Lodewyk Berquem in 1458. In 1562 Mary, Queen of Scotts sent Queen Elizabeth I a heart shaped diamond ring as a symbol of good will.
Heart diamonds has also appeared in paintings by Frans Pourbous in 1605 and then, Jean-Baptiste Tavernier had written about the heart shape diamond in 1655. But it was not until the 1900s that the heart shaped diamond was a growing choice among the fancy shaped diamonds.
Heart Shaped Diamonds
The heart shape diamond is one of the more difficult diamonds to cut. Master cutters need to make sure that the symmetry is perfect. Of course symmetry is important to each diamond shape. But the heart is different because the cutter must cut two identical halves to create the beauty that is the heart shape diamond. Each side of the heart must match.
There are particular recommendations for the heart shape diamond depending on how you will wear one. If you wear the heart shape diamond as a solitaire. You may want to search for a wider heart shape, creating a more eye-catching look. Surrounding the diamond in a heart shape halo can help define or establish the shape.
Heart diamonds are usually set as dangle earrings because making them into diamond studs are difficult to keep them from turning different directions. Like many other fancy shape diamonds the heart shape is usually not found smaller than 0.20 carats and when they are found the cut is usually not as precise as a round shape diamond of equal size.
The heart cut diamonds is supposed to have 59 facets in a specific pattern. Therefore, most jewelers recommend 0.50 carat as a minimum as a solitaire. The diamond has a better opportunity to have a beautiful cut. No diamond shape is a better symbol of love, after all a diamond does two wonderful things they sparkle and diamonds are a symbol of love from person to another.

What is a heart cut diamond?
Heart cut diamond is a variant of diamond cut with variable length and width. The stone is fixed using five clamps, ensuring its stability and safety. When choosing a heart diamond, it is important to pay attention to its symmetry: both halves of the heart must be identical. The indentation between two rounded protrusions should be sharply defined.
The heart shape usually consists of 56–59 facets, although the number of the main facets of the pavilion can vary from 6, 7 to 8. In addition, the heart shape is sometimes characterized by sharpening at the end of the diamond - this is a variation of the cut in which several small faces replace one large face in the end. Such a sharpening is also used in the form of a pear diamond. Heart shapes may vary slightly in appearance depending on quality and structure.
When determining the ratio of the length to the width of the shape of the heart diamond, the width is measured at the point of the widest edge of one semicircle to another. In addition, the heart diamond shape can be characterized by the effect of a bow tie, when the light passing through the diamond casts a shadow on the central faces of the stone. This form of heart diamond will appeal to emotional, sensitive and romantic natures.
So, you can buy heart diamond shapes in Dallas at our store. We have a large assortment of choices for this shapes of diamond in terms of price, carat, clarity, color and certificate. Also, you can select the desired diamond in depth, symmetry, polishing and other parameters. If you want to buy the right heart diamond with brilliance and fire, come to our store or leave a question to our managers.
Engagement Rings price for heart cut diamond in our store:
These are a few examples of heart diamond shapes that are used in engagement rings. You can see all kinds of engagement rings for inserting a heart diamond shape in our store!
Heart Diamond is the most romantic form of cutting and it would be strange if engagement rings do without inserts from cut heart shaped diamond. Most music stars before entering the red carpet wear engagement rings that are decorated with a heart diamond shape and laid out with small diamonds. Nowadays, the engagement ring with a heart diamond is very popular in vintage or modern style.
Such rings are appropriate not only as a gift for the engagement, but also on the wedding anniversary.
Testimonials
Our mission is to bring our customers
the highest level satifactions but don't take our word for it