Oval
Oval cut diamond is a wonderful choice for timeless beauty. The oval diamond is unique, brilliant, and elegant. The largest selection of oval diamonds in Dallas, TX at wholesale price.

Oval2030
Oval2030
Oval Diamonds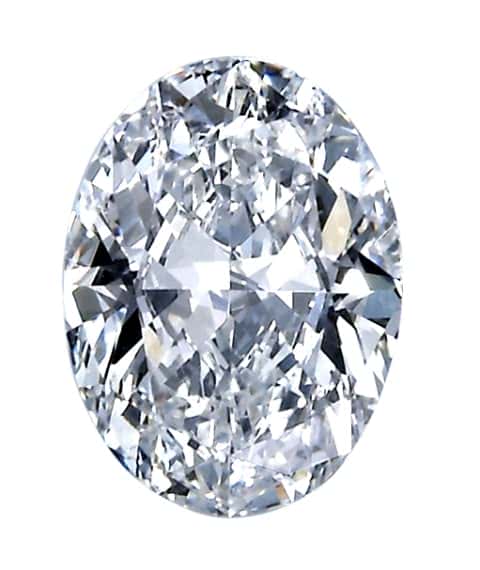 Oval cut diamonds serve to elegantly elongate fingers, creating the optical illusion of length
The name of this type of cut immediately gives an idea of ​​its contours. The beautiful oval cut diamond were developed relatively recently and were based on the traditional round shape. Since the advent of precious stones on the market to the present day, its popularity among lovers of diamonds of an unusual shape is only growing.
Oval diamond are distinguished by excellent gloss and play of light characteristics, very close to those of classical round cut. And besides, with the same weight, an oval cut diamond looks more due to its elongated shape, which, together with a more voluminous area, creates a visual effect of superior size. But at the same time, the oval diamond costs less than other forms of brilliant diamonds, which also becomes a significant advantage of this cut shape.
However, the dignity shape of the oval cut diamond does not end at the price and expressive tints of light. The elongated shape of the gem visually lengthens the fingers, making the diamond an ideal option for decorating the ring. However, in pendants and earrings such gems will look no worse, especially when surrounded by small diamonds.
Oval Cut Diamonds Dallas TX
The oval cut diamonds dates back to the 14th century, but cutting an oval was very difficult. With no modern equipment to guide them, nor the understanding of complex math or diamond physics, it took many centuries for the Oval Cut diamonds to get the badly needed overhaul it deserved. In 1957, the master cutter and cousin to Marcel Tolkowsky, Lazare Kaplan perfected the first Modern Oval Cut.
It was less than 30 years earlier that the round diamond was perfected as well. With the groundwork established, the Modern Oval cut was cut like a long round, with some obvious differences. Fifty eight strategically placed facets were placed much like the round. The challenge was how wide and how long. What ratio from length to width will maximize the brilliance? The discovery was simple.
The ratio range that is most widely accepted is 1.35-1.50. The surprising thing was that personal preference may outweigh the math. An oval with a ratio of 1.60 has a beautiful long look, even though It may not sparkle as much as one that is 1.35. But it will have an appeal to someone wanting a long look. Once the diamond is set into the engagement ring it may look perfect in that type of setting regardless of the math. An interesting point to make is that two oval diamonds of the same carat weight may look completely different. One may have a long look and the other may have a wider look to it, and yet they both may weigh the same.
Oval Diamonds Dallas
The quality of the cut will impact the sparkle and what anyone would look for in their Oval Cut diamond is beautiful sparkle. When a rough is cut into the oval, there can be noticeable signs that this diamond was cut poorly. And you may want to consider and you may want to consider a bet cut oval.
The middle part of the diamond may have a dark area in the shape of a bow-tie. The area can detract from the beauty of the sparkle that a diamond should have. The absence of the bow-tie offers more light to come back out through the table of the diamond. Most people will never notice it if it is not pointed out. But once informed the bow-tie will become the one thing you see first in your engagement ring.
The excitement of the Oval Cut Diamonds is quite simple, it's shape. The long look graces and brings length or size to the hand. The oval offers unique playful symmetry. Unlike the pear shape and wonderful opportunity for engagement rings or custom design work. Whether you are leaning towards a vintage look for an engagement ring or a modern one. So, the Oval Cut diamond is a wonderful choice for timeless beauty.

Engagement Rings price for oval cut diamond in our store:
These are a few examples of oval diamond shapes that are used in engagement rings. You can see all kinds of engagement rings for inserting a oval diamond shape in our store!
Surely every buyer is interested in how best to choose an oval cut diamond ring from the photo. The search for the perfect ring with an oval diamond for a girl is not easy, but having made the right choice, the product will become my favorite for many years.
An oval diamond with an engagement ring of 1 or 2 carats is considered to be an evening decoration that should be worn for special occasions, but there are rings for daily wear. The most striking example is an engagement ring. For holidays, it is best to pick up a ring with a large oval diamonds, as for everyday wear - more accurate products.
When buying a ring with an oval diamond of 1 carat or more, you need to pay attention to the shape. For example, for girls with thin handles, it is best to choose a ring with a round diamond or an oval diamond, since with other fingers you will need to choose a different diamond shape.
The price an oval cut diamond depends on the following factors: color, clarity, weight and cut. Thus, choosing a female ring with an oval diamond, it is worth considering many factors. Start with the features of the future owner, the color of her eyes, the shape of her hand and the presence of other jewelry.
Where can you buy oval diamond in Dallas?
The oval shape of the diamond is distinguished by its luster and play of round stone, while grace and soft femininity. Oval cut diamonds are cut in the same way as round ones, because they have the same number of faces. With the same weight of round and oval diamonds, an elongated stone will significantly win visually in size.
The oval shape is used to cut large stones, especially popular in engagement rings, where they are used as a single insert, often surrounded by small diamonds. A smaller diamonds gives an extra sparkle and volume to the oval diamond in the center of the ring. Oval shaped diamonds can be used not only for single inserts, because several diamonds of different cut shapes can make up an interesting pattern, or even an ornament.
Most celebrities wear rings with a 5 carat oval diamond in the center and inlaid with small diamonds around the ring, in an 18 carat gold ring. Also, a large oval diamond is beautiful in a simple classic ring setting. It is worth noting that oval diamonds are also attached to earrings and pendants.
So, you can buy oval diamond shapes in Dallas at our store. We have a large assortment of choices for this shapes of diamond in terms of price, carat, clarity, color and certificate. Also, you can select the desired diamond in depth, symmetry, polishing and other parameters. If you want to buy the right oval diamond with brilliance and fire, come to our store or leave a question to our managers.
Testimonials
Our mission is to bring our customers
the highest level satifactions but don't take our word for it