Cushion
The cushion cut diamonds being less expensive than the round brilliant diamond still offers a similar look. Cushion diamonds at wholesale prices in Dallas. Wide selections of cushion cut diamonds online.

Cushion2030
Cushion2030
Cushion Diamonds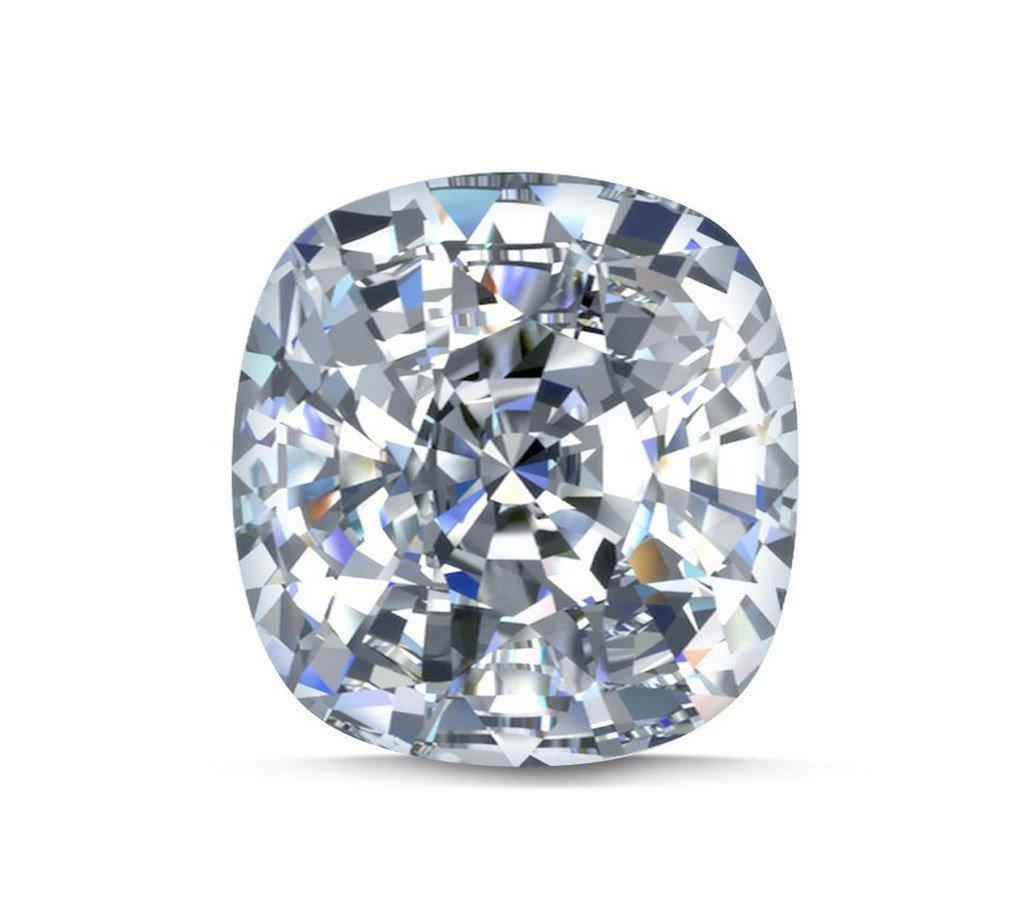 The cushion cut resembles a pillow and has an antique feel and a distinctive, romantic appearance
Cushion cut diamond can combine a strict rectangular silhouette and soft rounded contours. It is this combination that distinguishes cushion cut from other forms. The cushion diamond itself is convex, with rounded corners, which gives the gem an advantage over other diamonds. Cushion shaped diamond, cutting this precious stones began many years ago. This cut was most popular during the Baroque period - the muffled light from candles allowed such diamonds to shine especially brightly.
Today, there are several options for cutting a cushion cut diamond, differing only in the number of facets. Such variability gives customers a greater choice, and also allows you to choose the type of cut diamond that would give less loss of initial mass during processing. The facets in the cushion cut diamond are arranged in such a way that the shade of the gemstone becomes brighter and deeper, therefore such a cut is preferred for colored diamonds. Rare color and shape make these diamonds truly unique.
Cushion diamond goes well with other precious stones that also have a smooth shape - oval, pear and round diamonds will create a harmonious combination in jewelry or engagement ring.
Cushion Cut Diamonds Dallas TX
Diamond shape trends may come and go. But the cushion cut diamonds will always have a firm place with popular diamond shapes. The cushion cut diamonds being less expensive than the round brilliant diamond still offers a similar look. The cushion cut diamonds is the only diamond with 4 round corners offering a great combination of round and square in one.
Cushion shape diamonds are cut with a similar brilliant cut like the round. Making it a perfect choice for a variety of engagement ring designs. In Dallas, Texas we are often requested to recreate vintage designs with the use of the modern cushion shape. The modern cushion shape diamond most resembles some vintage cuts from centuries past allowing the customer to create the look they desire.
Cushion Diamonds in Dallas
Like the princess cut, the cushion cut diamonds can be cut rectangular as well as square. Depending on the style of the engagement ring and her personal taste the shape of the diamond is important, the squarer it is, the more brilliant. A long cushion cut is still brilliant. But it may lose light within the middle of the diamond.
Long cushion cuts have a similar appeal like the oval cut. The long look offers length to her hand and can command amazing attention. Regardless of the shape, more square or rectangular, the 'pillow' shape sets a romantic tone.
In Dallas, Texas we are seeing an increasing demand in the cushion cut as the center of an engagement ring. Its soft lines and incredible brilliance looks perfect in many styles of engagement rings. But the cushion cut offers a lot of opportunities in fine jewelry accessories, as well. Being less expensive than round diamonds. The cushion cut is often used in fashion jewelry as an alternative to the round.
They present themselves as beautiful diamond pendants, eternity bands and tennis bracelets. Long cushion cut have been used diamond pendants or elaborate necklaces. A single cushion cut diamond is beautiful as a solitaire on the hand or as diamond stud earrings. So, the lively and exciting cushion cut is the perfect shape for jewelry today.

What is a cushion cut diamond?
This shape is a favorite cushion cut shape, for those who like diamonds in the shape of a square or rectangle, namely for those who like geometric symmetry. At the same time, cushion cut diamond shape is not in the form of sharp angles and the rounded corners give the stone femininity, such a diamond is suitable for those who do not like sharp diamonds with a square or rectangular shape. Thus, the cushion diamond is a huge sparkling diamond on a finger in the frame of a beautiful engagement ring.
How is compared a cushion diamond to a very popular round diamond? Typically, cushion diamond will be cheaper than a round diamond. But in the case of diamonds of an unusual shape, cutting a cushion can be more expensive. At the same time, you will receive a larger cushion diamond for the same money as a round diamond. This is due to the fact that diamonds are cut in weight, and the cutter will prefer to cut a larger, heavier stone of various shapes from rough diamonds.
With a good choice the cushion diamond will have a huge cost, because it has a larger surface area and gives more luster, and you can end up buying a stone that is much larger than you expected.
So, you can buy cushion diamond shapes in Dallas at our store. We have a large assortment of choices for this shapes of diamond in terms of price, carat, clarity, color and certificate. Also, you can select the desired diamond in depth, symmetry, polishing and other parameters. If you want to buy the right cushion diamond with brilliance and fire, come to our store or leave a question to our managers.
Engagement Rings price for cushion cut diamond in our store:
These are a few examples of cushion diamond shapes that are used in engagement rings. You can see all kinds of engagement rings for inserting a cushion diamond shape in our store!
If you see a girl with an engagement ring with a cushion cut diamond, know that she or the person who presented this jewelry to her is well versed in diamonds. An engagement ring with a 1-carat cushion cut diamond and a romantic basket of white and pink flowers is a great choice for your engagement.
Cushion diamonds are created only from perfectly pure diamonds, and when cutting a diamond, the maximum preservation of the initial mass of the stone is achieved. Accordingly, stones of this shape are quite rare, and the cut itself is already a confirmation of high quality.
In engagement rings of any type, such a diamond can be used, as a rule, in unique frames the cushion diamond looks very dignified and attractive. Cushion diamond allows for many frame options and will satisfy every taste. It can be softened to a very simple and classic solitaire or pave engagement rings. So, you can get maximum brilliance with small diamonds located around the main central stone.
Testimonials
Our mission is to bring our customers
the highest level satifactions but don't take our word for it