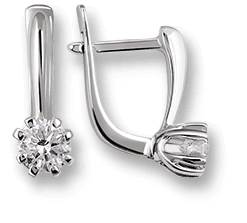 Diamond Earrings are single loose diamonds set in a basket of four and eight prongs
ABOUT KRISTALL JEWELRY
For more than 40 years, Kristall has been successfully selling fine jewelry and loose diamonds to domestic and international markets.
Kristall is the largest and the only enterprise in the Republic of Belarus which is able to perform the complete manufacturing of diamond jewelry production, from the process of cutting and finishing polished diamonds to the process of creating fine jewelry with diamonds.
Kristall has state-of-the-art production and technical machinery, its own program dedicated to professional training in the workplace and qualified labor resources.
Kristall is the official client of the world's largest diamond mining company ALROSA, which supplies high-quality rough diamonds mined in Yakutia, Russia. Kristall has its own testing laboratory carrying out stringent quality control of precious stones. Each diamond is certified through the crucial standards set in the Kristall laboratory and is accredited in accordance with the criteria of the National Accreditation System of the Republic of Belarus.