Why Custom-Made Jewelry is a Wise Purchase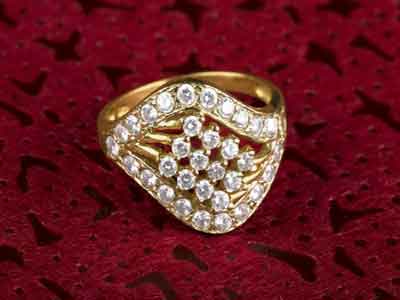 Since the dawn of time mankind has adorn itself with precious jewels and metals for beauty and self-expression. The tradition is one passed down into our modern times and is more important than ever. For some special occasions such as important birthdays, engagements, and even wedding anniversaries a pre-made ring just won't do. It's the quicker option, but anything worth having is worth investing your time into. You won't regret ordering a custom-made piece that you will enjoy and cherish for years to come.
The jewelers at Aura Diamonds pride themselves on their ability to create any custom piece of jewelry for your special occasion. Here are just a few reasons choosing to buy custom-made will be one of the best choices you ever make! In a previous blog post, we covered the topic of diamond expertise, and in this post, we'll look at custom made jewelry.
Custom made jewelry: Express Your Self!
Some occasions just call for the need to stand out and express your personal style. Our one of a kind custom made jewelry pieces allow you to have input into their making. You can choose the design, colors, and setting for each piece to match your personality, creativity, and passion!
This also makes custom made jewelry a great gift when you want a special occasion to shine in their memory forever. Nothing shows how well you know a loved one like a piece of custom-made jewelry just for them.
What Piece of Jewelry Are You Dreaming of? Whatever it is our Jewelry Store can bring it to life! Their favorite part of the job is working one-on-one with customers to bring their dreams to life. Bring your creative inspirations and our jewelers will bring them to life! There's no need to force yourself to settle for something already on display! If it's not the jewelry you've been dreaming of purchase a custom-made piece instead!
Just as Unique as You! The biggest reason our clients purchase custom-made jewelry is show off their unique and creative style. Custom-made jewelry can be your one-of-a-kind piece to wear to any occasion. When you wear a custom piece from Aura Diamonds you'll know that you'll be the only one in the room or the world for that matter with that exact piece. If you're looking for a way to stand out in a crowd look no further than custom made jewelry.
Custom jewelry Doesn't Cost as Much as You Think!
No need to fear the price tag of a custom-made jewelry at Aura Diamonds! We happily work with clients with all budget sizes. Just let us know your spending range and our designers will work with you to craft the custom-made piece of your dreams using materials within your budget. If you're still not sure you can afford a custom piece contact us today and we'll walk you through the process!
Sentimental Value. Once you invest your time and creativity into a piece of custom-made jewelry you'll cherish for years to come. After our designers walk you through every step of the creative process you'll have a piece that not only reflects your style and flare, but also a tangible memory to look back on.
Reach Out to Aura Diamonds to Make All Your Custom Jewelry Dreams Come True. We understand how overwhelming the process of shopping for the perfect piece can be. Contact us today to connect with a designer to walk you through the process of creating your very own custom piece of jewelry, engagement rings, wedding rings and other jewelry. It's a perfect gift for yourself or someone special. Custom Jewelry is the gift that will remain special and cherished for years to come.