What to expect during your visit to Aura Diamonds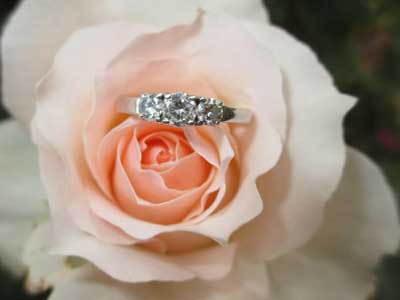 You've found the one you want to call yours forever and now share the romance of a lifetime. The only thing that's left to do is pop the question? She's waiting and you're ready to ask?
How do you prepare for this life changing question?
Your to-do list for the day of the big question is probably a long one. Relax, because here at Aura Diamonds we're happy to take the weight off your shoulders. Her engagement ring will be the longest lasting reminder of the magical moment you asked her to be yours forever and it should be the diamond engagement ring she's always dreamed of!
But how do you decide which one is perfect for your partner?
Choosing the perfect engagement ring for her to say yes to doesn't have to be mind boggling! We've put together a pre-shopping to-do list for you! Most of these you probably already know, but they're still important to keep in mind when you're shopping for the big day!
Keep Her in Mind.
You're ready to ask her to marry you so you already know her well. What are her favorite things? Women gush about the things they love so you've spent a lot of time listening to her. Recall some of your conversations and pay attention. She's probably already hinted at the diamond engagement ring of her dreams.
Enlist the Help of Her Friends.
Women talk about everything together, but you already know that! Now that you're ready to pop the question enlist the help of her friends. They'll be thrilled to be included and happy to help! Be sure to ask direction questions like what diamond cut or band style would fit your beloved's personality.
Don't Forget Your Own Friends.
When shopping for an engagement ring don't forget about your own friends or family members that have already gone through this rite of passage. Ask to hear their stories and shopping experiences. Not only will you learn from their victories you'll also know what pitfalls to avoid.
Know Your Diamond Cuts.
Diamonds come in all shapes, sizes, and colors, but the most important aspect of a diamond engagement ring is the cut of the diamond. From the classic round cut to the cushion cut each cut of diamond has something unique to offer. We've put together a brief overview of some of the more popular diamond cuts to save you time.
Research Before You Choose A Diamond Engagement Ring
Her diamond engagement ring will be a hefty purchase so do your research to ensure you get a ring she'll be happy with for years to come. Gaining a basic understanding of the 4Cs of diamond shopping will make your experience much more enjoyable.
The 4Cs of diamond shopping are cuts, clarity, color, and carats. It's good to have a general understanding of these concepts before making your purchase.
Plan Your Budget Ahead of Time and Stick to It.
Having a budget is often the most overlooked part of shopping for a diamond engagement ring. Knowing how much you plan to spend up front will keep you from overspending and ending up in a tight spot later. While some of the diamond rings beyond your budget will tempt you know that it's possible to find her the perfect diamond engagement ring without breaking the bank.
What to Expect When Visit Aura Diamonds?
We have a helpful and knowledgeable staff ready to answer all your diamond engagement ring needs. Let us know what you're looking for and we'll help you find your bride-to-be's perfect diamond engagement ring!
Related Articles: